What Uni Textile Can Do
for the Future of Domestic Textile
Six Efforts toward SDGs
Uni Textile has developed six policies to solve issues such as excessive production and creating an environmental burden as well as to ensure the sustainability of domestic textiles.
Manufacturing
Committed to "Made in Japan"
Uni Textile adheres to "Japanese quality." We not only hold partnerships with the production regions such as Hokuriku, Kyoto, Nishiwaki, and Enshu, but also support these regions through capital investments. We have obtained the J∞QUALITY "Certification for companies in safety, security and compliance (in weaving and knitting)."
Thorough Traceability
of Production
Close communication is ensured among the company's factories, subsidiaries, and associated factories. By coordinating all the processes, ranging from weaving and processing to delivery, the company has a grasp of when and where the production is undertaken and by whom.
Pursuing A Sustainable Production System and Products
We support continuous business in the production regions through investments and collaboration with our factories, subsidiaries, and associated factories, thus contributing to the development of domestic textile industries. Moreover, by developing high-quality, durable textiles and completing the production process in Japan, we are doing our part to reduce CO2 generated during transportation and to alleviate the environmental burden.
Efficient Production Rather Than Mass Production
Efficient production that focuses on economic lot size contributes to the reduction of the environmental burden generated during production. Also, by establishing a system that allows the supply of the necessary quantity of textile at the right time, we can reduce waste from excessive production and discarded fabrics.
Commitment to Environmental Conservation
Developing Environmentally-Friendly ProductsThe company is committed to manufacturing environmentally-friendly products such as recycled and regenerated fibers and textiles using organic cotton threads. Also, we employ digital printing, which uses no water and can be used for small lot orders.
Paper with Forest Certification Used for Sample BooksWe use paper with forest certification that formally obtained the "FSC certification" for the mount in our textile sample
books.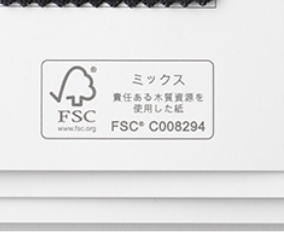 "OEKO-TEX®" Obtained
Our textile articles have been certified as "OEKO-TEX®STANDARD 100" which guarantees the highest level of safety in the world. Please contact our sales team for relevant items.